Ahavas Sholom is part of the Life and Legacy program to promote endowments for our shul and the Jewish community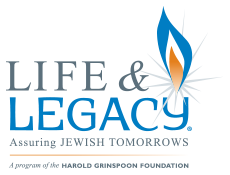 LIFE & LEGACY is a four-year partnership program of the Harold S. Grinspoon Foundation that assists communities across North America, through partnerships with Jewish Federations and Foundations to promote after-lifetime giving to build endowments that will sustain valued organizations and vibrant Jewish communities for the next generation and beyond.
What is a Legacy Gift?
Legacy Giving is after-life giving. You do not have to be wealthy, nor do you need to give today, to make a difference in Ahavas Sholom's future. You can leave a Legacy Gift in many ways, such as:

• Gift of Life Insurance– by naming Ahavas Sholom as a beneficiary to receive a portion of your insurance
• Gift of retirement funds (IRA/401k/ pension) – by naming Ahavas Sholom as a beneficiary to receive a portion of your remaining balance
• Gift of cash or assets
• Charitable Gift Annuity or Charitable remainder trust
• Gift in your will or trust
Your LIFE & LEGACY™ Gift will be invested and will provide annual revenue to support our shul for many generations to come.
Ahavas Sholom is pleased to be affiliated with this program. For more information, please contact Gary Covel, Dotan Herszage, Sandy Lefkowitz, Nancy Kay or Phil Weinerman
This form is for our friends who would like to become a legacy donor.
This form is for donors who want to confirm their legacy gift. Email the shul office to send you a form like this, that you can fill out on your computer, or print out and return.
Tue, October 3 2023 18 Tishrei 5784