Ahavas Sholom is now affiliated with the Life and Legacy program to promote endowments for our shul and the Jewish community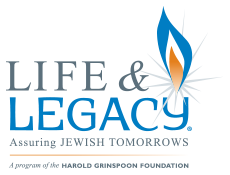 LIFE & LEGACY is a four-year partnership program of the Harold Grinspoon Foundation that assists communities across North America, through partnerships with Jewish Federations and Foundations to promote after-lifetime giving to build endowments that will sustain valued organizations and vibrant Jewish communities for the next generation and beyond.
Through training, support, and monetary incentives, LIFE & LEGACY motivates Jewish organizations to secure legacy gifts, steward donors, and integrate legacy giving into the philanthropic culture of the Jewish community.
What is a Legacy Gift?
Legacy Giving is after-life giving. You do not have to be wealthy, nor do you need to give today, to make a difference in Ahavas Sholom's future. You can leave a Legacy Gift in many ways, such as:
• Gift of Life Insurance– by naming Ahavas Sholom as a beneficiary to receive a portion of your insurance
• Gift of retirement funds (IRA/401k/ pension) – by naming Ahavas Sholom as a beneficiary to receive a portion of your remaining balance
• Gift of cash or assets
• Charitable Gift Annuity
• Charitable Remainder Trust
Your LIFE & LEGACY™ Gift will be invested and will provide annual revenue to support our shul for many generations to come.
Ahavas Sholom is pleased to be affiliated with this program. For more information, please contact Rabbi Claman, Dotan Herszage, Sandy Lefkowitz or Phil Weinerman
LIFE & LEGACYTM FAQs
What is LIFE & LEGACY?
A four-year capacity building program offered by the Harold Grinspoon Foundation that provides training, support and monetary incentives to help organizations grow their endowments by securing meaningful legacy gifts.

This program builds a stronger, more cohesive community by creating a strong partnership with all Jewish organizations.
What are the goals of LIFE & LEGACY?
To capitalize on the ongoing opportunity that is the $59 trillion intergenerational transfer of wealth
To integrate legacy giving into a community's philanthropic culture
To help every donor become a philanthropist (one does not need to be 65 and wealthy to leave an after lifetime gift).
What are the benefits of LIFE & LEGACY?
An educational curriculum that will include best practices on how to implement a successful legacy initiative, have legacy conversations with donors, market your legacy program, integrate strong stewardship practices into your organizational culture, be more donor-centric and sustain your initiative in perpetuity.
Incentive grants to those organizations who meet set goals.
Marketing assistance to create LIFE & LEGACY materials.
Organizations' legacy donors will be honored at a community-wide celebration.
What are the requirements to participate in LIFE & LEGACY?
Ability to put together a legacy team which includes: o At least one organizational professional o At least three lay leaders  Legacy teams will: o Have conversations with potential donors about their passions and desire to sustain the organization for future generations.

Attend all required trainings.
Submit reprts to JewishColumbus on a quarterly basis.
Establish bard approved written endowment policies and procedures.
Place gifts received thrugh the LIFE & LEGACY program in an endowment at the Jewish Foundation. o Steward donors in meaningful ways.
What are the obligations of JewishColumbus?
Implement and fund the program. JewishColumbus will fund 2/3 of the program and the Harold Grinspoon Foundation will fund the remaining 1/3.
Offer incentive grants to organizations who meet their goals.
Provide quality group training, consulting and coaching in conjunction with our LIFE & LEGACY consultant.
Assist each agency to develop a plan and track progress.
Provide community-wide LIFE & LEGACY marketing materials.  Host the community celebration to honor all legacy donors.
Wed, September 23 2020 5 Tishrei 5781