.
Week of December 5-10
Shacharis: 7:00AM (Sunday at 8:15AM) Mincha/Maariv: 4:50PM
DVAR TORAH FROM
RABBI CLAMAN
KEEPING IT REAL
The laws of Chaukah teach us that we are to let the candles burn "ad sh'tichle regel min ha'shuk." The literal meaning of this phrase is that the Chanuka candles should burn all the time that people are walking (regel) in the street.
However, the Sfas Emes z"l offers a homiletical explanation to the word regel and teaches that it is related to regilus – habituation. Now the halacha reads as follows: We are to light the Chanuka candles in order to bring renewal and dispel our sense of heartless routine (hergel) in our avodas Hashem.
We follow the opinion of Beis Hillel that we start with one candle and build to eight. Beis Hillel teaches our philosophy in life, to be a Jew is to be מוסיף והולך, to not lifelessly do the same thing eight nights in a row, but to constantly add, do more and grow so that by the eight night we are doing eight times what we did when we began.
May our Chanuka celebration invigorate us with renewed passion, protect us against performing mitzvos mindlessly and allow us to see the great privilege of living the life of an informed Jew.

Wishing you all a wonderful Shabbos!
Rabbi David Claman
Sponsored by Edgar & Sofiya Karpovich in honor of their grandchildren and great grandchildren
IMPORTANT MESSAGE FROM JEWISHCOLUMBUS
Happy Hanukkah! We hope you are enjoying the holiday with your family.
If you have a moment, we would love to hear from you.
As you may or may not have heard, the Broad Street Kroger location is closing the majority of its kosher food services within several months. JewishColumbus, along with several partners throughout the city, will continue to monitor, problem solve and keep you updated as the situation develops.
In order to help understand the community's needs, we would love your input by participating in this survey. Your participation will help us determine the best next steps for our community. We recognize and appreciate our community's diversity, which is why your opinion matters regardless of whether or not you and your family keep kosher.
Only one person per household should fill in the survey, please!
Thank you!
JewishColumbus, Buckeye Kosher and Rabbinic Leadership
The data collected in this survey will be used by JewishColumbus and our community partners to enable informed decision making and to update JewishColumbus' database
On Shabbos & Yom Tov, the last six rows in both men's and women's sections will be mask mandatory. All other areas will be mask optional.

For those sitting in the mask optional section, we ask that you wear a mask until you arrive at your seat.

During the week, the back part of the women's section will be mask mandatory and all other areas will be mask optional.

Please do not come to shul if you have runny nose, sneezing, cough, difficulty breathing, fever or other cold or flu symptoms, loss of taste or smell, or other covid symptoms.

If you are unvaccinated and eligible for the vaccine, please strongly consider getting the vaccine.
CHOLIM LIST FOR MISHEBERACH
Please submit the names of cholim for the misheberach on Shabbos to ahavassholom@gmail.com by 1PM on Thursday. The list will be renewed weekly. The gabbai will read the names on the list and pause to allow people to add names from their seats.
THANK YOU TO OUR GENEROUS DONORS
Donations Made to Ahavas Sholom during the Month of November, 2021
Nnamdi Umeh
Yitz Gold in honor of Kathy, Paul, Jeremiah, and Eda Pollack
Rabbi and Mrs. Michoel and Shira Alt
Rabbi and Mrs. Daniel and Devorah Steinberg
All donors who helped make the Ahavas Sholom Bnei Mitzvah Kiddush a joyous occasion
Terri and Richard Barnett from the Terri Ann and Richard Barnett Philanthropic fund of the Columbus Jewish Foundation
Chad and Shaindy Silverstein from the Lazer Chessed Investment fund of the Columbus Jewish Foundation
Daniel Sheffer
Dotan and Shari Herszage
Mark and Susan Kurzmann in honor of Yitzy Cooper becoming Bar Mitzvah and the warm welcome from your congregation
Michael Schiff
Participating in Brunch and Bingo
Raanan and Rebecca Lefkovitz
Donation to Rabbi Claman's Charity and Discretionary Funds
Paul and Kathy Pollack
Marc Romanoff
Donation In Memory of
Golda Goldman, beloved mother on the occasion of her 16th yahrzeit by Nathaniel Goldman
Adelaide Mentser, Adele bas Reuven, beloved sister who passed away on 7th of Tishrei, 5782 by Myra Goldman
Their loved one by Laurie and Ron Reitman
Henry William Abrams by Rabbi and Mrs. Steve Abrams
Dan Chase's father by Sandy Lefkowitz
Chaim Mordechai ben Benyamin, 18 Kislev, by Tari and Stuart Modes
Loved ones of Sonia Modes Schottenstein
Esther bat Yechezkel, Esther Weismann, 4 Tevet by Bob and Marcia Hershfield
Bertha Feldman, 28 Kislev, by Alex and Susan Rosen
Aliyah Donation
Sonny Romanoff
Rabbi David Ginsburg
Andrew Rosenstein
Noah Katz
Buddy Adler
Paul Tanenbaum
Nathaniel Goldman
Sponsorships of Men's Senior Scholar Chabura
Ira Nutis – 11/3/2021
Susan and Alex Rosen – 11/10/2021
Natalie and Michael Berenstein – 11/17/2021, in prayers for refuah shlaima of Moredechai Yosef ben Toyba
Bruce and Nancy Kay – 11/24/2021, in honor of their anniversary
Mikveh Donation
Lawrence and Audrey Goldsmith
Stuart Appelbaum and Susan Stan
Donation towards the Kiddush Fund
Kathy and Paul Pollack
Thank you from Ahavas Sholom being awarded a grant from the Don L'Chaf Z'Chus fund of Columbus Jewish Foundation submitted by Yitz Gold
CLICK HERE TO SEE THE LIST OF GENEROUS DONORS THROUGHOUT THE MONTH OF NOVEMBER
SEFER IYOV TUESDAYS at 11:00AM
Sefer Iyov with Rabbi Claman
Tuesdays at 11:00AM
Click HERE to join
SHIUR SPONSORSHIP OPPORTUNITIES
To sponsor a shiur in honor of a yahrzeit, birthday or
simcha please click HERE
CTA's Scholarship Gala & Auction is coming up on December 12. The event will be a celebration of the joy that happens every day at CTA. Esteemed honorees are Cheri and Tod Friedman, Devorah and Justin Weprin, and Cheryl Miller. The Event will feature Dinner Stations followed by a program. All proceeds go to the Scholarship Fund to guarantee that a CTA education is affordable. Tribute Journal messages and Event Tickets can be reserved at www.torahacademy.org/gala. The deadline for tributes and tickets is November 24.
MESSAGE FROM MATT'S BAKERY
Dear Valued Customer,
For the last 16 years, we have been privileged to provide quality kosher baked goods to the Columbus community.
Recent developments at Kroger have caused us to make the decision to move out of Kroger and go back out on our own.
We are excited about the opportunity to expand the bakery into a bakery cafe so that we may offer more food options to the community. We plan to add pizza, pasta, and more.
But, we need your help. We are launching a GoFundMe Campaign to raise money to help us make the move into a new space. Here is the link https://gofund.me/3c0bca0c
We love this community, and want to continue providing delicious kosher food for many years to come.
We hope to reach our goal, but will be so grateful for any support we receive as we look to continue serving the community.

Please share this email with anybody you think may be willing to help.
Thank you.
Chillzone is canceled this week and will resume next week at Beth Jacob
Ahavas Sholom is affiliated with the Life and Legacy program to promote endowments for our shul and the Jewish community .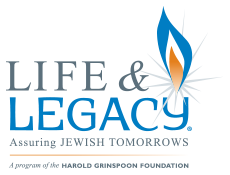 Ahavas Sholom is excited to be part of the Life & Legacy Program with the objective of increasing endowments to help ensure our Jewish future. This program is sponsored by the Harold Grinspoon Foundation and JewishColumbus.
Please click here for our Life and Legacy page
Please email ahavassholom@gmail.com or contact Rabbi Claman or Phil Weinerman for more information
WhatsApp Halacha Q&A Chat
Join Rabbi Claman's WhatsApp Halacha Q&A Chat!
Please click HERE from your smartphone or text your NAME to 614-800-8833.
Sun, December 5 2021
1 Teves 5782
Today's Calendar
Chanukah
Rosh Chodesh Teves
Shacharis

: 8:15am
Mincha/Maariv

: 4:50pm
Mincha/Maariv

: 4:50pm
---
Upcoming Programs & Events
---
This week's Torah portion is

Parshas Vayigash
Candle Lighting
Havdalah
Motzei Shabbos, Dec 11, 5:52pm
Chanukah & Rosh Chodesh Teves
View Calendar
Alos Hashachar
6:12am
Earliest Tallis
6:44am
Netz (Sunrise)
7:38am
Latest Shema
10:00am
Zman Tefillah
10:47am
Chatzos (Midday)
12:22pm
Mincha Gedola
12:46pm
Mincha Ketana
3:08pm
Plag HaMincha
4:07pm
Shkiah (Sunset)
5:07pm
Tzais Hakochavim
5:51pm
More >>
Sun, December 5 2021 1 Teves 5782